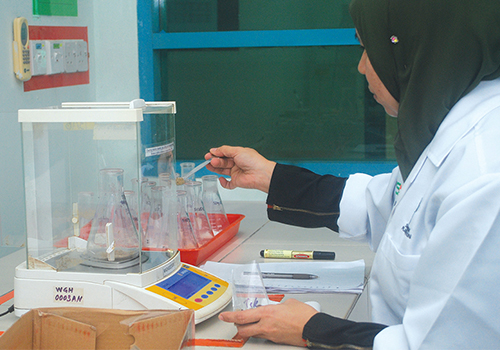 Laboratory Services
SP Lab, owned by Sarawak Plantation Services Sdn. Bhd. (SPSS) was established in 1979. It is currently operating at a double-storey building located at Jalan Sultan Tengah, Kuching. SP Lab provides a wide range of analytical services to its customers, which includes government agencies, private oil palm plantations, higher learning institutions, fertilizer and agrichemical suppliers and fertilizing mixing factories.

Fertilizer Testing
SP Lab provides testing for various straight fertilizers such as Urea, Sulphate of Ammonia (SOA), Rock Phosphate (RP), Muriate of Potash (MOP), Kieserite, Calcium Carbonate, Copper Sulphate, Zinc Sulphate, and also mixture compounds which include NK, Compound 25, Compound 44, Compound 45, Compound IMP and Fused Magnesium Phosphate (FMP). These are the common fertilizers used by the oil palm estates across the whole Sarawak region to enhance soil fertility, plant growth, and crops yield.
These fertilizers are tested using Malaysian Standard MS 417: The Analysis of Fertilizers methods for various parameters which include moisture, particle size, Ammoniacal Nitrogen, Nitrate Nitrogen, Urea Nitrogen, Total Nitrogen, Total Phosphorus, Citric Acid Soluble Phosphorus, Total Potassium, Total Magnesium, Total Boron and Total Calcium, while the Total Copper and Total Zinc are tested using In-house method based on Association of Official Agricultural Chemists (AOAC) standard methods. At SP Lab, our experienced laboratory technicians are dedicated and committed to deliver high-quality, accurate and precise analytical testing.

Plant or Leaf Testing
The growth and production of crops, especially oil palm is directly correlated to the concentration of nutrients in the leaf of crops. By testing and analyzing the nutrients in the leaf, it allows us to understand the reasons for good or bad growth conditions and high or low production volume. Furthermore, the mapping of plantations based on the nutrients in the leaf of crops at each block can help to optimize the effectiveness of fertilizer application and save cost.
SP Lab offers a wide range of testing for leaf nutrients especially for oil palm and other crops such as pepper, cocoa, pineapples, chili and etc. We test a foliar leaf for ash, Nitrogen, Phosphorus, Potassium, Calcium, and Magnesium using Malaysian Standard MS 677: Recommended Methods for Plant Chemical Analysis, while for Iron, Copper, Manganese, and Zinc using the In-house method based on the Association of Official Agricultural Chemists (AOAC) standard methods.

Soil Testing
Soil analysis is a vital part of sustainable crops and fertilizer management. The soil analysis is performed to verify the chemical and physical characteristics of the soil to evaluate soil fertility. Nutrients removed from soil can be replaced in time to optimize the growth and yield of the crops.
SP Lab provides testing for mineral soil and peat soil for its pH, conductivity, nitrogen and organic carbon contents, total and available phosphorus, exchangeable Ca, Mg, K, Cations Exchangeable Capacity (CEC) and physical composition (total clay, silt, fine sand and coarse sand).

Surface Water, Waste Water or Effluent Testing
According to MPOB, Sarawak has a total of 84 mills in operation with a total crude palm oil processing capacity of 22.60 million tonnes per year in 2019. It is estimated that 56.5 – 67.8 million tonnes of palm oil mill effluent are generated every year, and the number is increasing with the increase of the production volume. The Department of Environment has enforced a stricter discharge limit for the effluents especially for the Biochemical Oxygen Demand (BOD), Total Suspended Solids, Total Nitrogen, and also oil and grease.
SP Lab is receives samples from palm oil mills for its upstream, downstream and final discharge wastewater or effluents to test on its pH, Biochemical Oxygen Demand (BOD3), Chemical Oxygen Demand (COD), Ammoniacal and Total Nitrogen, Total Solids, Total Suspended Solids, oil and grease contents.
Other Miscellaneous Agricultural Products
Other than the above-mentioned tests, SP Lab also helps oil palm estates to analyse the Fresh Fruit Bunch (FFB) for its fruit and oil yield, digested compost from the empty fruit bunch, bunch ash, mesocarp fibres and decanter cake.
Our testing service is not limited to the palm oil industry, but also to other agricultural sectors such as rubber, cocoa, pepper, hydroponic or aquaponic farming and many more.
Food Nutritional Label Test
For food and beverage manufacturers and entrepreneurs, we also provide food testing for its pH, carbohydrate, fat, protein contents and energy in calories or kilojoules.
Among the samples, we have tested are cookies, flavouring sauce, cooking paste, beverage, bread, noodles and other miscellaneous dry food products.
Nutritional Information
Serving Size: 200g
Per 100g
Energy
240kCal (1004 kJ)
Carbohydrate, g
25
Protein, g
2
Fat, g
15